KOB
cycling

adventure grant 2023
Hello, explorers!
If you've been dreaming to embark on a thrilling cycling adventure but lacked the funds or courage to take the leap, the time has come to conquer those obstacles and make your dreams a reality! 
The KOB Adventure Grant aims to provide funding and mentorship to individuals who have a deep passion for cycling and storytelling. Apply and share your dream project with us. Grant recipients will have the opportunity to embark on challenging adventures, where they will gather inspiring stories from the world. Applications for the grant will open on October 1, 2023, and close on October 31, 2023.
To be distributed among winners. Each winner gets $150–$600.
50% quota for Pakistani nationals 🇵🇰
50% quota for all other countries 🌎
To be distributed among winners*
* Only for women based in Pakistan.
Annual

Applications open: 1st October 2023

Applications close: 31st October 2023

Winner Announcement: 15th November 2023
This grant is only for cycling-related adventures.

Applicants can be solo travelers or small teams.

The applicants can be of any country, any gender identity, and any age who are at least 18 years old.

Applicants must be passionate about cycling and adventure travel.

Applicants must be physically fit.

Applicants must have a clear plan for a bicycle adventure travel project that promotes cycling in some way. The project must involve a physical challenge.

The proposed bicycle adventure travel project must happen before June 2024.

Applicants must have an Instagram account.

Applicants must be willing to share their experiences and insights through social media, blog posts, or other forms of public outreach.

Applicants must be good at photography and writing or videography.

The grant money can be used for expenses related to the proposed project, including travel, equipment, and supplies.

The award is for independent travel. We will not consider any journey joining a commercial expedition or pre-paid tour.
Step 1: Applicants must fill out the application form. Any and all personal details provided must be true and accurate.
Step 2: Follow @kob.adventures @kamranonbike @gatescarbondrive @themadhatters.pk accounts on Instagram.
Step 3: Create one or more posts by uploading video, imagery or text on your Instagram account introducing yourself and the project you are seeking grant for, and why this project matters to you. Add the following tags in your post: #KobGrant #KobGrant2023 #UnchainYourAdventure @kob.adventures @kamranonbike @gatescarbondrive @themadhatters.pk
Step 4: Reach out to your friends and ask them to like, comment, and re-share your Instagram post. The higher the engagement on your post, the better.
Note: You must fill out the application form AND publish at least one post on Instagram to apply. You can publish multiple posts to introduce yourself, your project, and why you are passionate about it. The project proposal and social media posts should be written in either English or Urdu language.
Remember, you must make your Instagram profile public, so we can see your content.
If your application is shortlisted, you may be asked to develop a detailed proposal.
Applications for the 2023 Adventure Grant will open on 1st October 2023. For the latest updates, follow @kob.adventures on Instagram.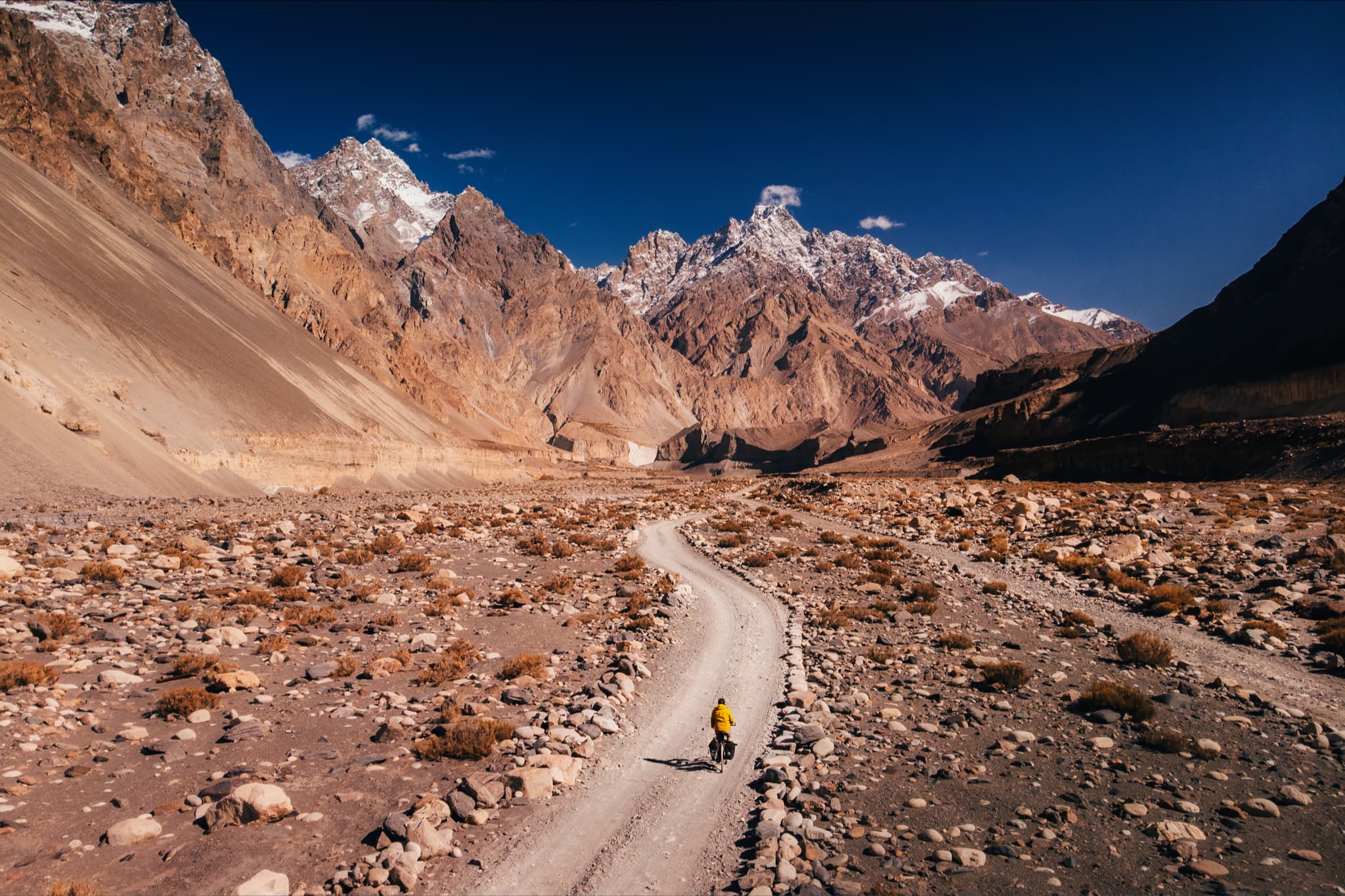 Requirements for
Participation
Participants understand and

acknowledge that cycling adventures involve inherent risks

, including but not limited to accidents, injuries, and unforeseen circumstances. Participants accept full responsibility for their actions and release the KAMRAN ON BIKE ADVENTURE GRANT organizers and partners from any liability for personal injuries, damages, or losses incurred during the adventure.

Applicants are advised to have proper insurance coverage, including medical insurance, to cover any potential expenses or emergencies during their adventures. It is recommended to consult with appropriate professionals and take necessary precautions to ensure their safety throughout the grant period.
By submitting an application to the KAMRAN ON BIKE ADVENTURE GRANT, participants grant the KOB Team and its affiliated partners irrevocable rights to repost, use, modify, and convert their submitted materials, including but not limited to photos, videos, and written content, for the purpose of creating grant-related promotional material. This includes the right to edit, crop, resize, enhance, or otherwise modify the content as deemed necessary for promotional purposes.

Participants retain their ownership rights to the original content submitted. However, they acknowledge tha

t their submitted materials may be featured on the grant website

, social media platforms, promotional campaigns, and other marketing materials associated with the KAMRAN ON BIKE ADVENTURE GRANT. The KOB Team and its affiliated partners may continue to use and promote the converted, edited, or modified content in perpetuity, even after the conclusion of the grant program. The KOB Team will make reasonable efforts to provide appropriate attribution whenever the participants' content is used.

By granting these rights,

participants confirm that they have full ownership

and rights to the submitted materials and that they have obtained any necessary permissions or releases from third parties featured in the content.

The

organizers reserve the right to modify the grant guidelines

, criteria, or other aspects of the program at any time without prior notice.

By submitting an application,

applicants confirm that they have read, understood, and agreed to the terms and conditions

outlined in the disclaimer.
When filling out the application form, be concise.
Keep your project proposal short but comprehensive. If you are shortlisted, we will ask for a detailed proposal.
When creating the content for Instagram, be original and creative.
Use your own imagery/text.
Show us your storytelling skills.
Your journey must matter to you. We must feel your enthusiasm.
Notification and Detailed Proposal: If you are shortlisted, you will be notified via email and may be requested to submit a detailed proposal.
Announcement of Winners: After reviewing the detailed proposals, the final winners will be officially announced.
Grant Announcement on Instagram: It is mandatory to announce your grant win on your Instagram account.
Mentorship Sessions: Winners are expected to attend mentorship sessions to refine their project and receive guidance.
Sharing Vision and Execution Plan: Share your project's vision, execution plan, and project dates on social media platforms.
Funding Disbursement: One month prior to commencing your project, you will receive the allocated grant amount from Kamran On Bike.
Regular Updates on Social Media: Throughout your adventure, provide regular updates and share captivating stories on social media.
Final Report Submission: After concluding the project, submit a brief report with pictures and videos, illustrating how the grant contributed to fulfilling your dreams.
Don't forget to include the following tags in all your social media posts: #KobGrant #KobGrant2023 #UnchainYourAdventure @kob.adventures @kamranonbike @gatescarbondrive @themadhatters.pk
WANNA
CONTRIBUTE

TO THE GRANT?
If you want to contribute to the grant, you have the option to make a donation. By donating, you will be directly supporting the Adventure Grant 2023 and helping us fund more adventurers. Your generous contribution will play a vital role in enabling individuals to embark on inspiring cycling adventures and share their stories with the world. Together, we can make a meaningful impact and empower even more passionate individuals to chase their dreams.
We are grateful to the following individuals for contributing to the 2023 Adventure Grant: