Chichimecas were nomadic people who lived north of the Valley of Mexico. They lived by hunting and did not occupy a fixed place. The Spanish described them as barbarous people who fiercely fought against the foreign intruders. Despite the forty-year-long Chichimeca War, which was the Spanish Empire's longest and most expensive war against any indigenous group in the Americas, the Spanish were unable to defeat them. Eventually, they sought peace with Chichimecas through the Purchase of Peace program. They provided them with food, clothing and land, and passively converted them to Catholicism. A century later, the Spanish and Chichimecas were integrated.
Today, only a few Chichimecas have been able to preserve their language and culture in the mainstream Mexican society. Chaman is one of them. I met him yesterday on a lonely stretch of road few km west of Acambaro. He stood in the middle of the road and played the flute and a small drum. Considering, it was an uninhabited land and there was very little traffic on the road, it was very unusual to see him in an Aztec attire and play music in front of no one. He was not even from this region, instead, he came from a remote village 150 km from here.
"Why are you performing on a lonely road like this with very little traffic? Wouldn't it be better if you go to a city because there are more people there and you would make more money?" I asked him.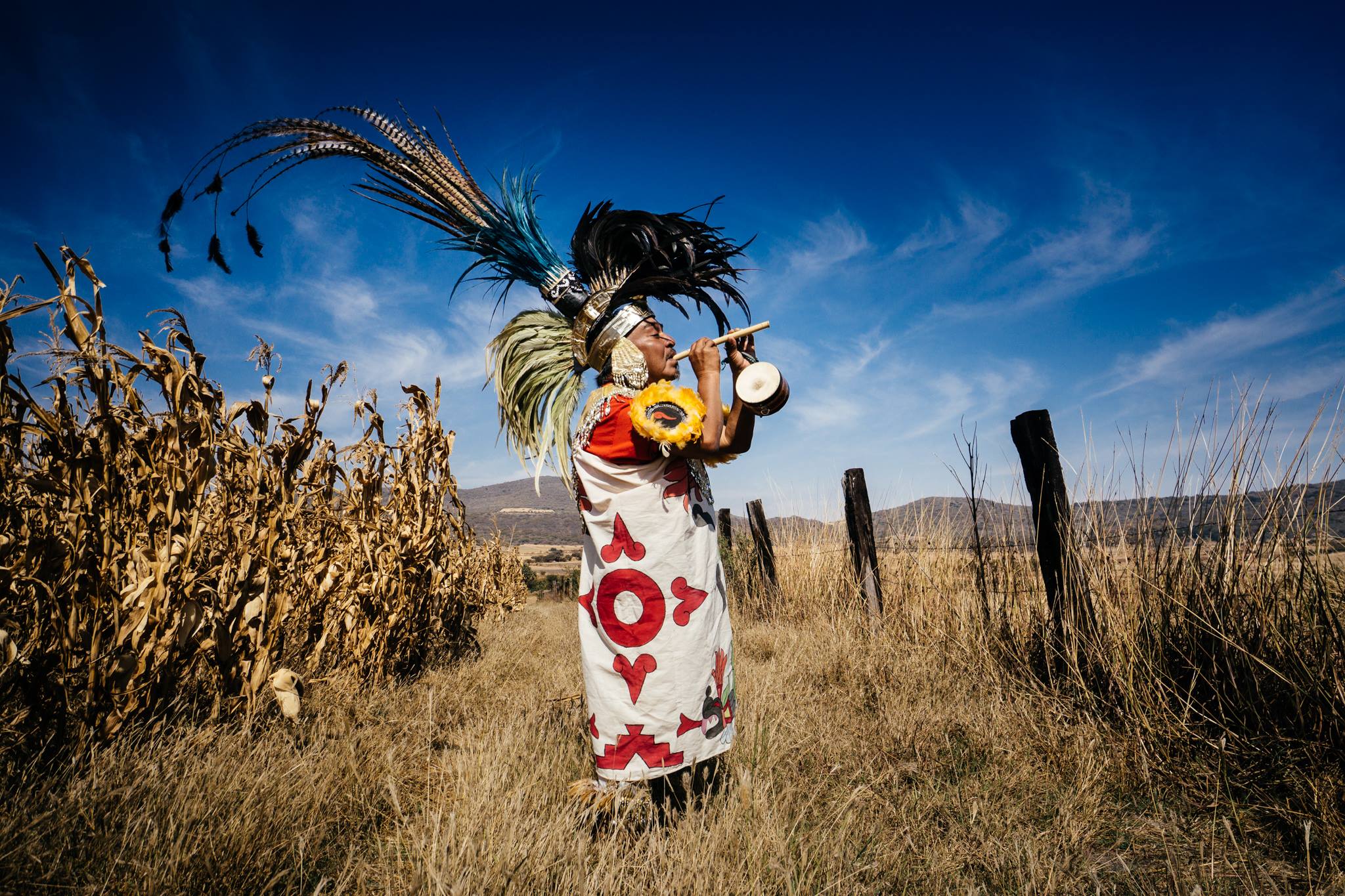 "No, I prefer places like this because it is more tranquil here", he answered with a beautiful child-like smile. I nodded.
I took him aside and took some photos of him. He was very patient as I tried to get the composition right with his massive headdress. Before leaving I gave him an apple and a big tip which he graciously accepted. He went back to the road and continued playing music. I watched him for a while in silence and then resumed my ride. The sound of flute became fainter and fainter as I cycled farther and farther and eventually all I could hear was the wind whistling through the dry maize fields. I slowed down and looked back and could still make out a tiny dot of white on a big bold black line.
Big thanks to Sony Mexico for their support. They fixed all my lenses and serviced my Sony Alpha 6000 camera as well which meant I was finally able to resume my journey after a long delay. I took this picture with the Sony Alpha 6000. My main camera Sony Alpha 7s is still with them but I've received a good news that it will be soon repaired and dispatched.